Thank you everyone for always reading the blog!
I'm Masashi Shioya, a coaching style consultant, owner of BLUEWOODS STRATEGIC ASSOCIATES(Japan).
This blog will be posted separately in Japanese and English.
Two and a half months have passed since the first coworking cafe "Estasion" opened in Hachinohe.
I introduced it in my previous blog (Sorry Japanese only). Here is ↓
The long-awaited first coworking space in Hachinohe "estacion" has opened!
I would like to actually carry out "Work & Vacation=Workcation" twice in Hachinohe for about two weeks and share the findings and situations I gained!
I will share it with the hope that it will be one of the sources of regional revitalization!
Although it is the Japanese English notation of "Worcation", an article written by the BBC about Worcation says "Workcation", so I will unify it with that English notation.
I challenged my first "Workcation" in Hachinohe from September to the end of December 2020. It all started when I took on the challenge while staying at my parents' house in Hachinohe and occasionally at a hotel in the center of Hachinohe town. At that time, I was working for Microsoft Japan, and I thought it would be a good opportunity to try Workcation because COVID is widespread in Japan, so I tried to challenge Workcation with the understanding of my boss. Thanks, My Boss!!
At that time, the coworking cafe was not open in Hachinohe yet, so I used to rent a conference room or a hotel depending on the content of the online meeting. However, Wi-Fi speed was unstable at some facilities in the city, so I used the data communication service of my smartphone.
I was hoping that there would be a coworking space in Hachinohe like Tokyo!!
And finally! As I wrote in my previous blog, the first coworking cafe in Hachinohe "estacion" (https://8estacion.jp/) opened in April this year.
The Wi-Fi at "estacion" is very comfortable and it is a very good environment as a workspace and a cafe!!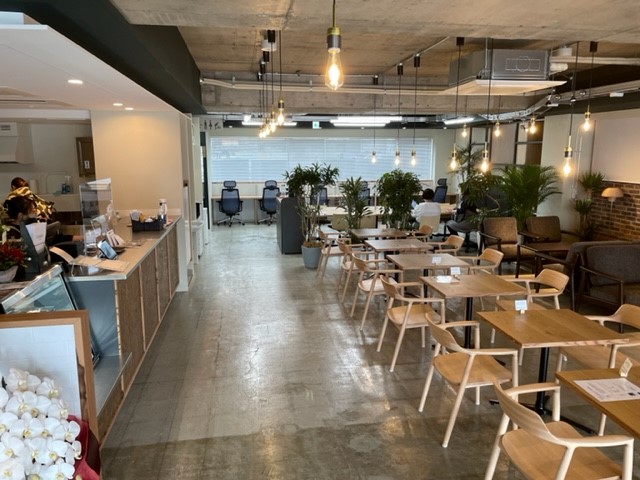 Currently, every time I come to Hachinohe, I sign a monthly membership contract and work in this working space for about 2 to 3 weeks, and it is a very good environment because I can also connect with local business people!!
As the word "Workcation" means, it's Work + Vacation, but in my case, I don't feel like a vacation because Hachinohe is my hometown. However, when Work is over, I walk through the streets where time passes slowly, which I have been accustomed to for a long time, listen to local dialects, stop by familiar shops, etc., and I am released from work mode. In some cases, it has a great effect of changing the mood!
I wrote this blog in June,2022. Recently, the sunset is getting late, so I finished my work early on weekday evenings and headed for "JR SAME Station" from "JR Honhachinohe Station" in the center of the Hachinohe city. If you go to that point and watch the sunset, you can be blown by the sea breeze! I feel this is a luxury time.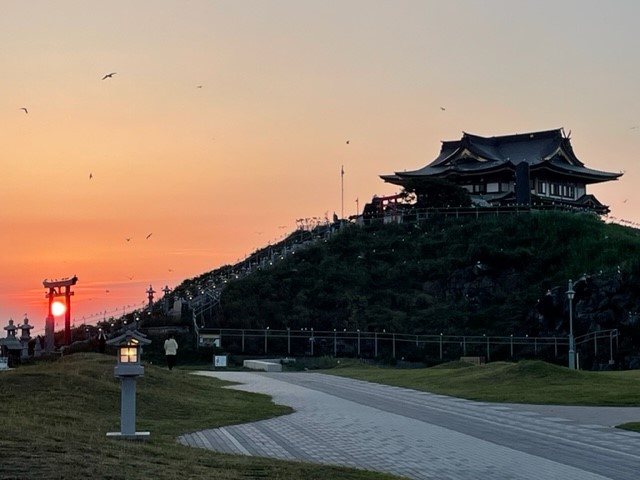 I feel this is a luxury time. However, since online meetings are often held in the evening, it is not always possible to go to Kabushima, but depending on the clients, online meetings may be held on the coast of Kabushima. I feel the effect of spreading ideas! I think location is also very important! Whad do you think?
By the way, there is a business hotel behind "estasion", so if you are running before work in the early morning, you can run 7.3km to Kabushima! It is 14 km round trip, but on the way back, you can reach "JR Hon-Hachinohe Station" by taking a train for about 13 minutes from "JR Same Station". If you stay at a hotel in the center of town, you can reach the "estacion" in about 10 minutes on foot.
I will talk about work on weekdays.
Basically, I'm working via online, so I can work without any problems. Although most my clients are in Tokyo and overseas companies, I can deliver my consulting services via online during I stay in Hachinohe. On client side, as their team members are not necessarily working in the their phisycal office, it is difficult to get together, so I am supporting them via online.
All customers know that I am doing workcation while going back and forth between Tokyo and Hachinohe. So I'm being asked about my workcation experiences. More and more customers are asking "We want to know information to work on Workcation!"
I think it's good to have more work style options!
In my case, it can be said that Workcation is possible because it is basically possible to provide my services via online. However, there are some cases where it is absolutely necessary to visit the customer directly and deal with it. In that case, I will adjust the schedule for visiting the customer's office and then move to Tokyo by the "JR Tohoku Shinkansen" the day before or the day of the event. About 3hours required to reach Tokyo depends on the number of stations where the Shinkansen stops. I use that travel time for document preparation, expense reimbursement work, and study time.
The word "Workcation" has come to be heard frequently in Japan in the last two years or so. Actually, it seems to have been used overseas since around 2010.
But around 2004, when I lived in Washington state, my friends used blackberries, Palm Pilot, etc. to connect to their computers and work on the beach before a barbecue dinner on weekday evenings. It is a scene four years before the iPhone appeared in the world. I wondered what a luxurious way of working. It's amazing that my friend's children are doing homework on the beach! My children attended the same local school, but … my child was playing on the beach! : )
I only know about Washington state, but many parks and beaches are usually equipped with barbecue facilities.
There is also a Japanese restaurant that is open from 6am early in the morning near "JR Mutsu-Minato Station (3.8km from Estacion)". You can also have breakfast there and then return to Estacion to start work before 9am or 10am.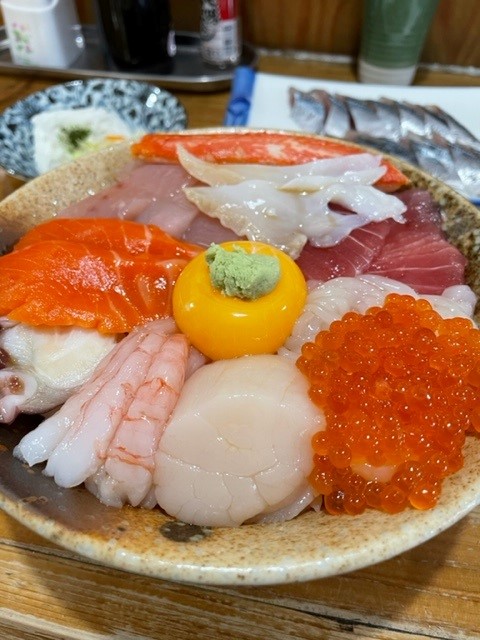 I have posted a large photo of the seafood bowl, but…
I don't always eat fresh seafood!! * Please do not misunderstand!
But, if you wanna eat it, please go there!
I usually eat at this "estasion" for lunch.
Sometimes I go to a nearby restaurant for lunch.
Occasionally, a famous cafe in the neighboring of Hachinohe will come to this coworking space to hold a lunch event. In addition, special lunch boxes from nearby restaurants are sold in limited quantities.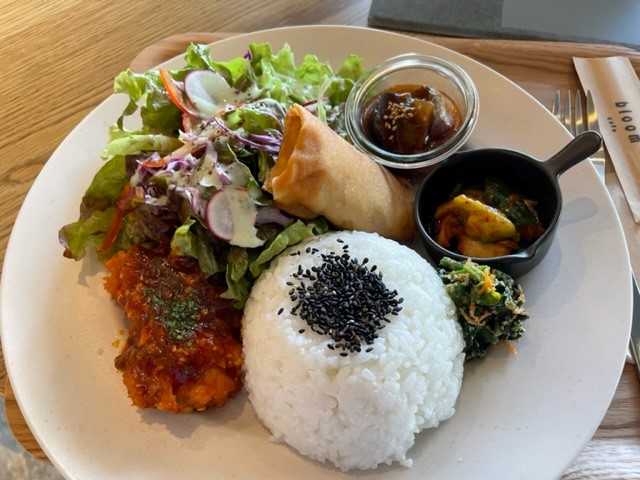 This is one initiative to revitalize the local economy. The people who visit the coworking space are not only locals. In particular, this coworking cafe owner expects people who use coworking spaces from other prefectures to go to the restaurant at night!!!
Also, by making Workcation based in a coworking space, I began to think more about the time allocation of work per day. This coworking space is open from 10 am to 7 pm, so we've started allocating time to get the job done within this time. At home, I tend to be wondering if I should work again at night…
By the way, I also have a contract for coworking space in Tokyo, so basically I don't work from home these days.
Also, there are times when I want to finish my work early today and eat dinner at "the Hasshoku Center market", although it's a little far away, I'm motivated to get the job done productively! : )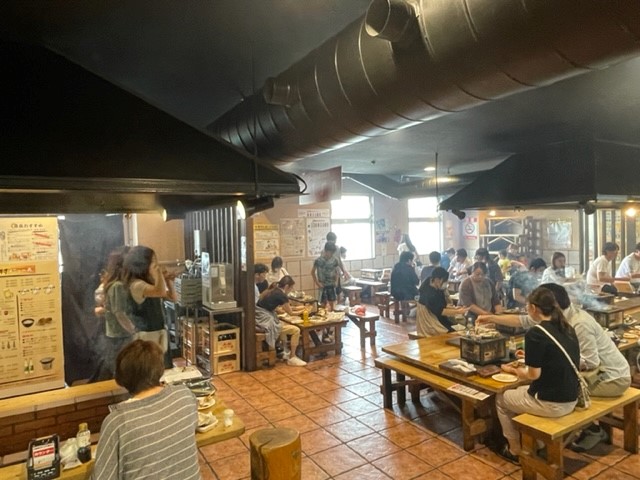 I can work at home with high productivity, but for some reason I notice that Workcation is even more productive 🙂 Because I know that the coworking space will close at 7:00 pm maybe.
Next is how to spend Saturday and Sunday of Workcation in my Hachinohe. This is also close to the sea, so you can walk to "Tanesashi Coast" and "Shirahama Coast" within the walking range. You can also take a bus to explore neighboring cities, towns and villages such as Nambu Town and Gonohe, or rent a car to go to Mutsu City, which is further north of Hachinohe City, Oma, which is famous for tuna, and Oirase Mountain Stream.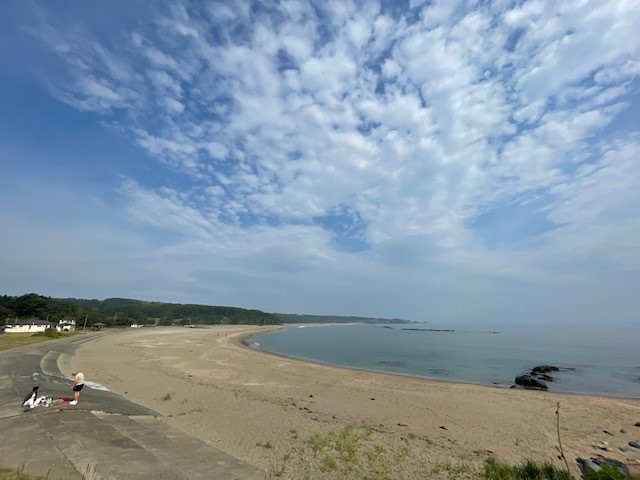 Both Shirahama beach and Tanesashi coast are about 10km from "estasion".
In addition, the Tatehana Wharf Morning Market is held every Sunday from about 4 am to 9 am. There is a wide variety of shops such as seafood, vegetables, side dishes, and fishing gear shops. There are more than 100 shops just by counting. I am looking forward to having breakfast at the market this morning.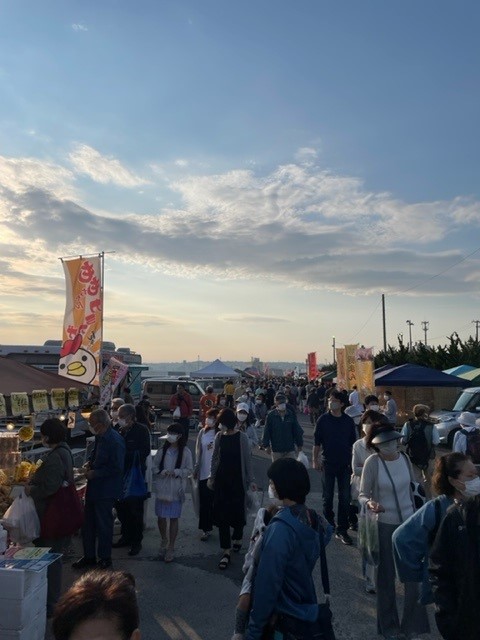 Not surprisingly, most of the day is spent in the coworking space here. Currently, I am providing a coach-style consulting to multiple customers online, so basically I often sit at my desk and work. However, as I walk around the working space as a time to think about something, I suddenly get a flash idea in a different landscape! It is said that changing the place, changing the way of using time, and changing the people with whom we interact change the switch of thinking and feelings. I feel that these three are made through "Workcation"! I belive!
Only food and landscape have been emphasized… but in reality, you can work intensively from 10 am to 7 pm in this "estasion"!! And, you can be relax in Hachinohe(Acomori, Japan)!!
I feel that being able to turn on and off with Work & Small Vacation even during the day will improve the quality of work as a result!!
If you have read this, please experience Workcation in Hachinohe at the coworking cafe "estasion"!
Thanks to all the people who have read this far! !!
Masashi Shioya,
Written at "estacion" in Hachinohe, Aomori, Japan.